Campers may not have running water or a shower. While some camping grounds provide showers for campers, it's unusual to locate one if you're mobile camping. Is it worth it to have this kind of thing when there isn't even a bathroom close by? It doesn't take long to make a camping shower. You can make it yourself and finish it in a short amount of time. Do you want to know how hard or easy this project could be? This article will break it down for you.
diy camp shower
There are many ways to make a private, heated shower in your camp. The best thing to do is to use a garden hose. This is if you don't have to move it and your car has enough space for everything you need. Then, that's what we're going to work on. It will be attached to one end of a garden hose that goes to the bilge pump.
After that, connect it to the switch. In order to make the toggle switch easy to reach while taking a shower, it should be connected to a Shook. A 12-volt power plug can be used to turn the switch on or off. In this case, connect the 12-volt plug to the battery jump-start. This will power the switch. Now, fill the bucket halfway with water and put your bilge pump in it. Take a quick shower now! The toggle switch changes the power of the jump starter. The toggle switch starts the jump starter, which lets the bilge pump move water through a hose. The spray nozzle lets you change the direction of the water flow.
A 7-gallon bucket of water will let you run the water through it in about 4 to 5 minutes. A spray nozzle must be used. You don't have a spray nozzle, do you agree? Is it not important to have a spray nozzle? "Not at all." Switch on or off the water with the toggle switch by connecting a nozzle with no handle to the switch. Isn't that cool? This do-it-yourself camp shower is better than the water-bag camp showers that many people use when they camp. With its weight, you'll need to store it somewhere.
If you have enough space for the bucket or jump starter, this makes sense. In addition, you can make a homemade camp shower out of a weed sprayer bottle, which is great if you have limited space. If you have a small van, this is a great way to make an outdoor shower that you can take with you.
How to make a heated DIY camp shower
After you have put together all of the materials for your DIY camp shower, you may want to know how to get hot water. Are you afraid of taking a cold shower? When you make your own camping shower, you don't need a lot of electricity to heat the water. You can heat a small amount of water on the camp stove or over the campfire. You can't heat all of the water because doing so will cause your skin to get burned if you try to take a shower with it. Instead, heat half the water over the campfire and half in a bucket.
After you heat the rest of the water in your bucket, you'll have warm water in it. Campers may want to use a propane tank to heat their water. It's still better to heat water with a campfire than with a propane tank.
Most likely, you will need one. Pack one or two 1012 tarps and some rope. Then you can put everything together into a box. If you have a lot of black garbage bags or another tarp, you don't need shower flip-flops. Another way to have a flat surface for bathing or showering is to use a portable shower deck. A dark trash bag may be the best choice because it is cheap and small. Make sure that your shower is angled down so that water can flow downhill. In order for your campsite to be safe, you must not let any water runoff from it.
A camp shower is the best way to stay clean while camping. Portable batteries are far more convenient for taking a bath outside than other ways. Many camp showers can do more than just clean the nozzle. Many models have built-in heating elements, like solar panels or hot water heaters that you can take with you. There are many ways that a foldable shelter tent can be used to create a privacy tent. A hot shower is a great way to relax after a long hike or in the morning.
Final thoughts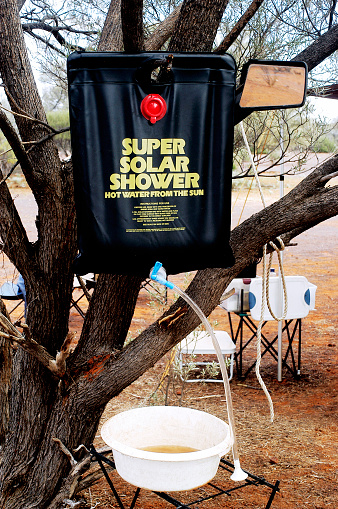 There are a lot of choices for camp showers, some of which come with a tent or other things. They can be expensive, waste a lot of energy, and send a strong stream of water from the showerhead. The DIY camp shower is a great idea.
There are many ways you can make a DIY camp shower. The portable water heater can also be used for other things, like dishwashing. The water heater can be plugged into your car, so you will always have hot and steady water. Bring a tarp to keep your feet dry. There is a way you can get an outdoor shower that's just like the one in your house. This guide will surely help you on your next camping trip.