You might be a picnicker or a camper who likes to spend time with your family and friends. When camping, it can be hard to cook, eat, and clean up all at the same time. This project makes it easy to do all three things at once. "Easy" and "fun" are both the same thing.
This kitchen is very easy to move, and it folds up quickly so that it fits in your camping car. The stand folds down, and it's easy to open and close the box.
If you have a lot of things in your kitchen that you need to keep safe, this can be a good place to keep them. The inside of the shelves can be moved so that you can change out equipment or move things around. This portable camp kitchen also has parts that can be added to make more space at your campsite.
While this project is hard to finish because there are so many small parts, it only needs common tools and materials that you probably already own or have access to.
See how this clever idea came to be and be inspired to make your own camping kitchen!
Whether you want to grill hamburgers and hotdogs or just keep your water cool for a refreshing drink after a long hike, you'll need to bring a small fridge with you. A simple Styrofoam cooler is a good idea if you're taking a lot of food and can get ice. Fill the bottom and sides of the container with ice. Then add the food and top it off with more ice.
When you get to your campsite, poke a very small hole in the bottom of one side to let the ice that has melted drain. It's best to line a plastic bucket with break-and-shake ice packs before adding your food. If you need to quickly chill some small items, you can cover the bucket with more ice packs and an old towel. If you don't have a lot of space, look into a folding, insulated lunch box.
Cooking Equipment
Camp kitchen storage boxes are known as "chuck boxes," and they are the real foundation of the DIY camping kitchen. If you want to make a meal, this is the place to put your stove.
Find a simple cabinet, box, or crate that has one side that can be opened and closed. There should be a cutting board next to the box. Wrap a tablecloth around the inside of a stockpot and put mugs, salt and pepper shakers, and other things on the bottom. Chopping knives, a can opener, a spoon, and tongs can be wrapped in dishtowels and stuffed into the mugs, so they don't get dirty. Stack a stockpot on one side of the chuck box and a frying pan on the other.
Choose a camp stove that fits your size and weight. Modern camp stoves are very lightweight and small in both design and weight. Even two-burner gas stoves, which are very useful can fold up into the size of a briefcase and weigh less than ten pounds.
Cleaning Area
It's time to fill up your "refrigerator" bucket or stockpot with water after you've emptied and cleaned it. The bucket or pot should be placed near a downhill slope on one side of the chuck box or cooler. This will direct the water away from the camp. Biodegradable dish soap and a sponge should be at the bottom of the sink so they can be washed. Wrap a few dish towels around the handle of the bucket or pot to keep them from getting dirty.
Putting It Together
Camping with a picnic table makes it easy to set up your kitchen when you stay there. Set up the wash station at the end of the trail, where the seats are. Toward the other end, put your camp stove and cutting board at table height. They should be next to the cooler and chuck box.
There is another way to place the cooler next to the box. You can put them on an even patch of land, with the chuck box facing the ground and the cooler next to it. When you set up your camp stove, put it on top of your chuck box. On top of the cooler, put your cleaning station and cutting board.
Final thoughts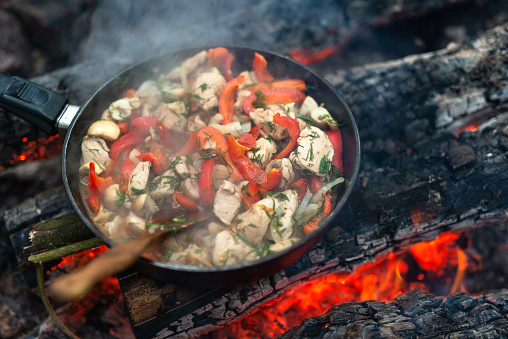 The DIY camping kitchen offers a convenient, all-in-one way to cook and store your food while camping. With a little ingenuity and some common materials, you can easily put together your own kitchen that will make your next camping trip a breeze.
Camping is a great way to enjoy the outdoors, get away from the hustle and bustle of everyday life, and spend some quality time with friends and family. However, preparing and cooking food while camping can be a bit of a challenge. A DIY camping kitchen can help to make your camp cooking experience much easier.
This type of kitchen requires common tools and materials that you most likely already own or have access to. With a few simple items, you can create a camp cooking area that is both functional and organized.
Your DIY camping kitchen should include a designated space to store your food, cooking equipment, and dishwashing supplies. It is also important to have an easily accessible water supply nearby. By following these simple tips, you can create a functional and organized camp kitchen that will make cooking while camping a breeze.
Happy camping!