Summer is a great time to start a new project or go on a trip. When the school year is over, the weather is good, and most people can take a few days off from work. This is a great time to pack up your car and go outside.
Our favorite camping hacks and tips are here to help you get the most out of the summer nights and clear skies.
15 Tips for Camping in Summer
1. Use orange lights to make your campsite visible.
Bright white lights attract bugs like crazy; a good way to fight this is to buy some orange lights for your campsite to use at night. Using mosquito repellent may not be possible, but it will help cut down on the number of bugs in your home.
2. Dress in light-colored, loose-fitting clothes that are easy to breathe in.
Technical synthetics or merino wool can help you stay cool and protect you from the sun.
Because cotton does not dry quickly after getting wet, it may still be uncomfortable or cause chafing when you start to sweat, because cotton does not dry quickly.
3. Build an impenetrable barrier against biting bugs.
When you're camping near water, you won't have to swim as far in the afternoon. Keep mosquitoes and midges in mind, though. Summer is the best time for mosquitoes to breed. Mosquitoes can only breed in water, so you may want to keep a distance between your site and the water where the mosquitoes live.
Flies can be a real nuisance when you're outside cooking or relaxing. They can also get in the way. People who have good head nets can stay calm when the blowflies start flying around. You can also make a screen room so you don't have to deal with them. DEET or citronella can come in handy if you need to get rid of mosquitoes quickly. Thermacell mosquito repellents also work well.
4. Take the fly off your tent to let more air in.
During hot weather, if your tent is made of synthetic material, you won't be able to breathe as well as you would if it was made of natural fiber, like cotton.
If it doesn't look like there will be any rain, you can sleep without the fly to let more air through the tent. This will help keep the inside of the house at a comfortable temperature and keep the air from becoming stale.
Because canvas tents are made of both synthetic and natural fibers, they allow more air to pass through in hot weather.
5. Don't forget about electrolytes
Keep hydrated when the weather is hot, but you may not remember to get your electrolytes back when the weather is hot. There are many more serious consequences of electrolyte loss, so keep some powder or hydration tablets on hand in your camp kitchen or hiking pack.
Keep in mind that drinking too much water can cause hyponatremia, which is when there is too much water in your body or not enough sodium in your blood. In any case, having a good balance of sodium and water is important for summer trips.
6. Freeze your food to cut down on the work your refrigerator or icebox has to do.
Freeze a few meals for your camping trip. Also, your refrigerator or icebox, which will be working against warmer temperatures in the summer, will benefit from this. It will save you time and effort when you're cooking dinner.
Check out this article for more tips on how to save energy in your 12V. These tips will also come in handy if you want to keep your icebox cool for a long time.
7. Bring an umbrella to create your own shade.
Bring poles for your tent's awning to make your own shade because there won't always be any. If yours doesn't have enough space for an awning, bring a gazebo or a lighter option, like an umbrella or a small fly.
8. Use a cooling towel or bandana to cool down your body heat.
A cooling towel or necktie is a quick and easy way to stay cool when you're outside in the summer. As soon as you do this, put it around your neck and let the water drip off. It will slowly cool you down. In addition, you can put them in the refrigerator or a cooler before you wrap them around your neck.
9. Create a circular flow of air inside your shelter.
You might have a hard time getting a good night's sleep if the weather is hot and there aren't any breezes. A portable camping fan can be used to make a cool breeze if you can't find one. You can also open any windows and doors while leaving the screens in place to make circular airflow.
10. Sunscreen and a hat must be used.
A broad-brimmed hat will keep your head and shoulders cool, so don't forget to wear one while setting up and taking down your campsite. This will protect your skin from the sun's harmful rays. Any time you go outside, long-sleeved clothes, sunscreen, and sunglasses are also needed.
11. Make the size of your ice chest smaller.
In terms of staying cool, you don't have to be unhappy with how much water is left in your ice chest this summer. Our campers say that instead of large bags of ice, they should use a lot of frozen water bottles. They keep the water where it should be and, when it melts, they give you ready-to-drink water!
12. When you go camping, you need cleaning supplies to keep you from getting dirty.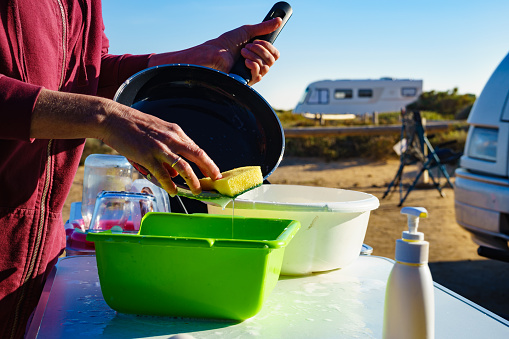 During the summer, many people go camping so they can stay clean as well as stay cool. Your trip will run smoothly and be free of stains if you take good care of yourself and clean up at the campground, no matter if you're with kids who find something sticky or adults who act the same way.
13. Hanging storage is a great way to keep campground clutter to a minimum.
A closet organizer is a great way to store your camping supplies on site. This is a trick that our rangers often told us about. At the campground, a hanging organizer can keep things off the picnic table and make them easier to pack and unpack. It can be hung from a tree or the RV.
14. Prepare for bad weather conditions.
Getting some summer rain can be a welcome break from the heat. Others think it takes away from the camping experience completely. During a downpour, you might want to waterproof your gear and equipment so that you won't have to deal with any problems.
15. Pay attention to fire safety alerts.
Wildland fires are caused by humans 85 percent of the time. If you don't listen to the warnings, you run the risk of starting the next huge, destructive fire. Always listen to fire warnings, check the fire danger level with your campground host or online, and get all the permits you need in advance. and look into alternatives to campfires.
Final thoughts
Summer is all about camping in the heat of the day and leaving your camping gear in the car packed up until you're ready for bed. This article has provided some great tips to help make camping this summer as comfortable as possible.
Camping in the summer will be a great way for you to bond with friends and family. Just make sure you plan ahead and pack appropriately.